4th Annual SWFL Lifestyle/Activity Directors EXPO Presents:
ATILIO & ANNE
Legends Of Hollywood, Popera, Broadway, Neapolitan
Italian/Argentinian tenor and actor Atilio Marinelli (formerly) MR. ROMANTICO pairs up with internationally renowned opera-pop singer Anne Tormela, (formerly) THE DIVA, (Quando m'en vo-G. Puccini) to perform the most beloved romantic duets of Popera, Broadway, Hollywood, Italian and Neapolitan and Golden Oldie classics with a twist of comedy and flair! Tributes to the great legends, Bocelli, Streisand, Mario Lanza, Celine Dion, Tom Jones, Whitney Houston, Engelbert, Sarah Brightman, Neil Diamond, Pavarotti and more. Music to be entertained by and to Dance to!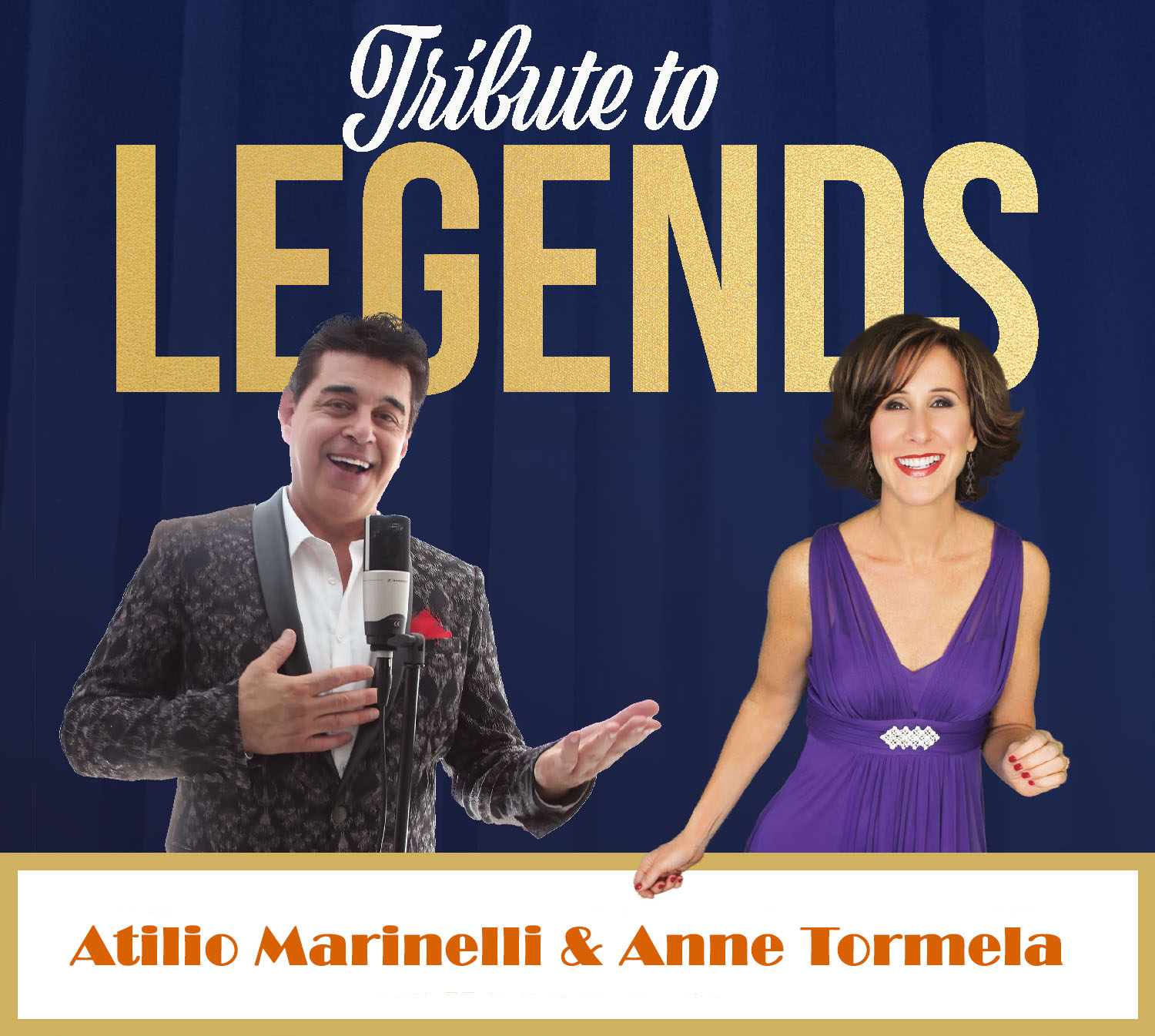 Agent (Atilio) Tel: 260-316-5653 | Email: connie.duguid@gmail.com
Anne Tormela Tel: 212-879-0144 | Email: annetormela@gmail.com
ATILIO MARINELLI, Tenor
Atilio Marinelli, an Argentinian of Italian and Spanish-Creole heritage is one of the most sought-after international musical entertainers today and is noted for being "Irresistible, Fabulous and Fun!". Marinelli is a classically trained dramatic tenor and actor who sings a wide repertoire of International hits from Popular Music to Opera, in English, Italian and Spanish.  Performing all over the world he has been enchanting audiences with his charismatic shows with a twist of comedy and flair.  "The best show we've seen in years!  You may laugh or you may cry but you WILL get goose bumps during this thrilling and delightful show!" Marinelli specializes in customized multi-media cabaret type shows with TRIBUTES to the big hits of the great Pop/Opera legends such as: Bocelli, Elvis, Mario Lanza, Sinatra, Tom Jones, Neil Diamond, Pavarotti and more as well as Popular Italian songs, Cinemusic-Hollywood's most beloved songs, Broadway gems of the Musicals, and Golden Oldies (Blast from the Past) DANCING music from the  50's, 60's, 70's.   In 2018 he paired up with international opera/pop singer Anne Tormela in a new cabaret show "Mr. Romantico and The Diva!" to rave reviews.   With the elegant combination of music and videos, Marinelli has created a feast for the ears as well as the eyes!  Born and raised in the heart of Buenos Aires, Argentina, where tango music spills from its balconies, Marinelli hails from a prestigious artistic family.  As a young tenor he was selected to be in the "Argentinians Got Talent" television show.  In 1996 he founded his own entertainment company, and with 12 dancers and musicians he performed more than 2000 Latin Shows in 16 years.  In addition to his musical pursuits, Marinelli received a college degree in Architecture and a master's degree in Urban studies and was a former Argentinian Rugby champion.
ANNE TORMELA, Soprano
A Native New Yorker Anne recently relocated to Sarasota Florida and has been in high demand delighting her audiences with user friendly diverse performances with music from classic Broadway, Pop, (Barbara Streisand, Whitney Houston), Folk (Judy Collins, Stevie Wonder) and Popera (Bocelli, Webber etc..). With a very wide range of music Anne welcomes special requests from the audiences and is known for entertaining stories of the songs she performs. Classically trained but equally at home with Pop and Broadway, Ms. Tormela, has been noted for her "secure technique, unfailing intonation and expression and clear and sensitive text." (Ulrik Cold; Royal Danish Opera), her "ringing and strongly expressive voice with extraordinary vocal control." (Leif Kramp; Critic/Lübecker Nachtrichten) and "negotiating the upper reaches (of her voice) with dazzling security" (David Syrus, Head of Music, Royal Opera House, Convent Garden). Ms. Tormela has performed and concertized all over the world in Italy, France, Germany, Poland, Israel, and Sweden. From 2015 to 2018 Ms. Tormela was a guest soloist in Italy and Poland to great acclaim with the Civitanova Marche Orchestra, Bytomiu Opera house, The Karol Szymanowski Academy of Music in Katowice, and in 2018 with the Orchestra Filarmonica Marchigiana in Osimo Italy. Locally, in early2020 she performed with Metropolitan Opera star Jason Stearns at the Manatee Performing Arts Center in Bradenton, Florida. More recently she performed a Tribute to Love pop concert with Atilio Marinelli at the Norris Center in Naples, FL to rave reviews. Upcoming performances will be with the Orchestra Filarmonica Marchigiana in Italy, a Tribute to Legends at the Gateway Center for the Arts, in Debary, FL and as a soloist with The Pops Symphony of Sarasota in 2024. She has won numerous grants, awards and scholarships from venues such as The Rockefeller Foundation, International Vocal Arts Institute the Metropolitan Opera Guild, and The Altamura/Caruso International Voice Competition. Ms. Tormela is the founder and Artistic Director of The Manhattan Lyric Opera-POP! Company which specializes in cabaret broadway/popera shows and user-friendly cut down (90 minutes) classic operas and operettas with projected sets and supertitles. In addition to opera, Ms. Tormela has a fourth degree black belt in Tae Kwon Do.
(PRIVATE PARTIES, COUNTRY CLUBS, RETIREMENT HOMES, THEATERS)
ATILIO & ANNE MUSIC REPERTOIRE:
| | | |
| --- | --- | --- |
| UPBEAT FAST TEMPO SONGS | FAST DANCE SONGS | SLOW DANCE SONGS |
| NEW YORK | BABY LOVE | AT LAST |
| PRETTY WOMAN | YOU'RE THE ONE THAT I WANT | CRAZY |
| ROUND AROUND SUE | THE LOOK OF LOVE | CAN'T HELP FALLING IN LOVE |
| THE WANDERER | I SAY A LITTLE PRAYRE | AFTER THE LOVIN |
| LA BAMBA | EVERYBODY'S SOMEBODY'S FOOL | UNCHAINED MELODY |
| OLD TIME ROCK 'N'ROLL | MY GUY | PLEASE RELEASE ME |
| MY GIRL | DA ROO RON RON | WONDERFUL WORLD |
| BUILD ME UP BUTTERCUP | BE MY BABY | ONLY YOU |
| MY FOOLISH HEART | COULD I HAVE THIS DANCE | MY WAY |
| STAND BY ME | WILL YOU STILL LOVE ME TOMORROW? | FEELINGS |
| MUSTANG SALLY | I WILL SURVIVE | SWAY |
| THE TWIST | NEVER CAN SAY GOODBYE | PERFECT SYMPHONY |
| I GOTTA FEELING | DANCING QUEEN | SMOKE GETS IN YOUR EYES |
| UPTOWN FUNKY TOWN | I WANNA DANCE WITH SOMEBODY | TEARS ON MY PILLOW |
| DO YOU LOVE ME | SEPTEMBER | THE LAST WALTZ |
| KANSAS CITY | FANTASY | BESAME MUCHO |
| SUGAR PIE HONEY | CAN'T TAKE MY EYES OFF OF YOU | BLUE SPANISH EYES |
| QUE SERA SERA | DON'T GO BREAKING MY HEART | YOU'VE LOST THAT LOVIN FEELIN |
| BEYOND THE SEA | YMCA | LA VIE EN ROSE |
| STRANGERS IN THE NIGHT | FLY ME TO THE MOON | |
| I'VE GOT YOU UNDER MY SKIN | | |
| SMILE | | |
| THE WAY YOU LOOK TONIGHT | | |
| NICE N EASY | | |
| AINT THAT A KICK IN THE HEAD | | |
| MORE | | |
| I DON QUIXOTE | | |
| | | |
| --- | --- | --- |
| DUETS | BROADWAY | POP/FOLK |
| UNFORGETTABLE | I FEEL PRETTY | I WILL ALWAYS LOVE YOU |
| CHEEK TO CHEEK | SOMEWHERE | I AM WHAT I AM |
| ALL THE WAY | CLIMB EVERY MOUNTAIN | DIAMONDS ARE FOREVER |
| WHEN I FALL IN LOVE | EDELWEISS | RUN TO YOU |
| LOVE CHANGES EVERYTHING | GETTING TO KNOW YOU | THE GREATEST LOVE OF ALL |
| ALL I ASK OF YOU | HELLO YOUNG LOVERS | A PIECE OF SKY |
| TONIGHT TONIGHT | TRY TO REMEMBER | PAPA CAN YOU HEAR ME? |
| CAN'T HELP FALLING IN LOVE | SOMETHING WONDERFUL | FOR YOUR EYES ONLY |
| I LOVE YOU THEN I HATE YOU | TILL THERE WAS YOU | PEOPLE |
| YOU DON'T BRING ME FLOWERS | HOME | HALLELUYA |
| BECAUSE WE BELIEVE | MEMORY | WIND BENEATH MY WINGS |
| YOU NEVER WALK ALONE | BEING ALIVE | JUST THE WAY YOU ARE |
| SAMSON | SEND IN THE CLOWNS | GOOD MORNING HEARTACHE |
| THE PRAYRE | SOMETHING'S COMING | CRAZY |
| TIME TO SAY GOODBYE | PROMISES PROMISES | CABARET |
| IT'S A GRAND NIGHT FOR SINGING | I'LL NEVER FALL IN LOVE AGAIN | MAYBE THIS TIME |
| THE PHANTOM OF THE OPERA | WHAT I DID FOR LOVE | ALFIE |
| NESSUN DORMA | I DON'T KNOW HOW TO LOVE HIM | CARUSO |
| BEAUTY AND THE BEAST | DON'T RAIN ON MY PARADE | A HOUSE IS NOT A HOME |
| CAN'T TAKE MY EYES OFF OF YOU | I COULD HAVE DANCED ALL NIGHT | THE LOOK OF LOVE |
| SUNRISE SUNSET | MATCHMAKER MATCHMAKER | THE WAY WE WERE |
| MERRY WIDOW WALTZ | BAUBLES BANGLES AND BEADS | EVERGREEN |
| OMAGGIO | AND THIS IS MY BELOVED | GEORGY GIRL |
| LIBIAMO | ON THE STREET WHERE YOU LIVE | DOWNTOWN |
| O SOAVE FANCIULLA | THINK OF ME | WHO'S SORRY NOW? |
| PEOPLE WILL SAY WE'RE IN LOVE | WISHING YOU WERE HERE AGAIN | THOSE WERE THE DAYS MY FRIEND |
| THE LOVLIEST NIGHT OF THE YEAR | EVITA | IN MY LIFE |
| ANYTHING YOU CAN DO | I DREAMED A DREAM | BOTH SIDES NOW |
| WITHOUT A SONG | CAN'T HELP LOVIN DAT MAN | INNERVISIONS |
| | ONLY MAKE BELIEVE | MY HEART WILL GO ON |
| | TILL THERE WAS YOU | KILLING ME SOFTLY |
| | OKLAHOMA | LOST HORIZON |
| | OH WHAT A BEAUTIFUL MORNING | I'LL BE SEEING YOU |
|   | SOMEWHERE | MOONRIVER |
| | |
| --- | --- |
| OPERETTTA/CLASSICAL/OPERA | NEAPOLITAN/HOLLYWOOD |
| AH SWEET MYSTERY OF LIFE | AMORE |
| A KISS IN THE DARK | FINICULI FINICULA |
| ITALIAN STREET SONG | VOLARE |
| VIENNA CITY OF MY DREAMS | UWE MAMMA |
| ONE KISS | NON TI SCORDAR DI ME |
| MERRY WIDOW WALTZ | CARUSO |
| VILIA | TORNA SURRIENTO |
| LOVE IS A MANY SPLENDORED THING | AL DI LA |
| DANNY BOY | MAMMA |
| AVE MARIA | O SOLE MIO |
| HABANERA | CINEMA PARADISO |
| SEMPRE LIBERA | QUIZAS QUIZAS |
| GLITTER AND BE GAY | VIVA PER LEI |
| O MIO BABBINO CARO | DARE TO LIVE |
| NESSUN DORMA | BE MY LOVE |
| LA DONNA E MOBILE | E PIU TI PENSO |
| LASCIA CH'IO PIANGA | COME BELLA STAGIONE |
| SUMMERTIME | ANEMA CORE |
| EMBRACEABLE YOU | I HAVE BUT ONE HEART |
| MY DEAR MARQUIS | SANTA LUCIA |
| WILL YOU REMEMBER | |
| MY HERO | |
| ALL THE THINGS YOU ARE | |